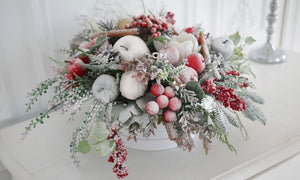 Ways To Adorn Your Home With Flowers This Holiday Season
With the onset of winter, it's always fun and festive to decorate the home with flowers to celebrate the season. With so many ways to adorn your home with flowers this holiday season, there's no shortage of things to try and experiment with. See what your home can benefit from, color coordinate, and play around with different scents to find the perfect atmosphere for the cozy winter months.
Experiment With Orchids
Orchids are some of the most versatile flowers you'll find; they come in many different colors and aromas, so you can create completely different looks with the same flower. Whether you want to use traditional holiday colors or want to go off and make something of your own, orchids can offer you that creative outlet. They can be the centerpieces of your floral design, or you can use them to accentuate your other decorative choices. Orchids can be a safe bet when you want to add more flowers.
Bouquet Arrangements
Adding more flowers to your home for the winter can be as simple as setting up some fresh flower bouquets around the home, placing them on nightstands, tables, countertops, or windowsills. They can serve as a source of colorful beauty and enhance a room with the strength of their scent. Breathe some more life into your home with the looks and aromas of flower bouquets, keeping a little bushel of nature when the outside is so cold and frightful.
Decorating the Fireplace Mantle
One of the all-time classic spots to decorate the home is the mantle above the fireplace, a location where many place their garlands, wreaths, and other festive decorations. The fireplace, in most cases, is the centerpiece of a living room, the focal point that all the furniture fits around.
Because of its prominence, it's essential to make sure your fireplace's mantle shows off your floral decoration ability. Create not only a warm and cozy place to sit around but enhance it with wreaths adorned with flowers and vases filled with colorful roses. Bring home a welcoming and comfortable feeling for yourself and your holiday visitors.
Enhance Your Home's Look
The holidays are a chance to experiment with the look of your home and try out new and impressive floral decorating ideas. Don't let the season pass by without trying something new; give some new flowers a shot to bring their beauty into your house. Know some ways to adorn your home with flowers this winter and enjoy the results of your work.