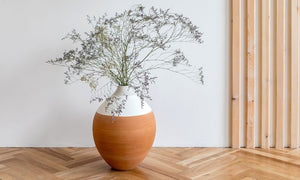 The Most Popular Fresh Floral Trends in 2022
The floral industry is constantly evolving to suit the tastes of each new generation. With these changes come different industry trends, with recent developments guiding the industry through a transition.
For example, now that the COVID-19 pandemic seems to be on the downtrend, large events such as weddings are starting to return. These sorts of events often demand lots of flowers, dictating trends in the floral industry. With this in mind, here are the most popular fresh floral trends in 2022.
Naturally Spontaneous Bouquets
Florists are starting to craft bouquets that look natural on the surface but that possess greater levels of detail when you look more closely. These bouquets appear unfinished or haphazardly put together, but the overall expression of the piece is organic and enduring. This helps the creator feel like as though they have unlimited possibilities because they don't have to conform to conventional rules.
Wild vines are wonderful additions to any group of grasses and blossoms, and they give these sorts of bouquets a sense of whimsy. Any sort of loose branch or vine can serve as a critical connection in this disparate array of foliage.
Bouquets as Interior Centerpieces
Trends are leaning away from hand-tied bouquets and toward interior bouquets in 2022. This type of bouquet sets the mood in any space, as the design of the composition will fit the form and function of the room in which it's placed. An interior bouquet should be greater than the sum of its parts, and with the stems visible, it should also reveal all aspects of the flowers within. The water supply and the bouquet must be harmonious with each other to create the most favorable impression.
For this type of bouquet, creators should use a flat plate with a low level of water to serve as the container. They might also add some petals to float on the surface of the water.
Organic Floristry
Sustainably designed bouquets are becoming the norm in the floral industry. In years past, artificial objects weren't out of place in a bouquet, but with the way that these objects affect nature becoming more and more apparent, florists are starting to feel more responsible for their environmental impact. Thankfully, natural colors and shapes are becoming more common, so florists don't have to use artificial items anymore.
When designing this bouquet, florists only use pure plant material in standing water. Choosing to forgo paint, plastic, and glue can pose a bit of a challenge, but it also opens the door to new creative opportunities. Therefore, increasing the sustainability of floral bouquets doesn't intrude on florists' creativity.
Arranging the Same Flowers Together
This popular trend helps people cut down on costs for table arrangements. Although some people might have seen this trend as tacky in the past, arranging the same flowers together is truly experiencing rebirth as a design trend.
If you want to try your hand at this trend, place your flowers on a plate with a mirror, a table runner, and a metal base. For the vase, use something colorful such as ceramic or laminated glass. You should try to create a connection between adjacent flowers so that these vases have a sophisticated bond. For this reason, you'll want to go with small flowers that don't break apart easily.
The best part about this trend is that there are no rules. The main intention behind this style is conservation, so as long as you achieve that outcome, you'll successfully style your bouquets.
Putting Flowers in Strange Objects
This trend is fun because it offers many surprising outcomes. You can organize your bouquet in lamps, create arrangements on a piece of wood, hide the water containers, or even string vines around a clothing rack.
Summer flowers are most suitable for this trend because they're resilient. In addition, you can include other unique plant materials such as vines, twigs, and leaves. A smaller bouquet could fit on your sink, desk, or possibly your car's dashboard; tying in the framing with the location could help you achieve a more cohesive design. Putting flowers in interesting locations will help them attract attention, so you won't be limited to using only flowers that are vibrant or eye-catching.
Flower Decorations for Large Rooms
Larger events were put on hold during the pandemic, but they're now coming back in full swing. For this reason, floral decorations for large rooms are an emerging trend. Weddings are the main area of focus for this style, but other events are also fair game. The wide range of budgets and purposes for these sorts of events means that achieving a consistent result with this trend might be tough. Modesty seems to be the prevailing spirit.
Garden varieties are useful for this purpose because they're high quality but not too over the top. Structures such as gates, flower walls, and arches are coming back in a big way, but with sustainability at the forefront.
Dried Flowers
People used to see dried flowers as a faux pas, but thanks to boho styles, garden styles, and vintage trends taking the spotlight, flowers in various stages of bloom are becoming trendier.
For a more romantic appeal, mixing fresh and dried flowers will help your bouquet seem more diverse. Including some livelier flowers will enhance the effect of the dried ones in the ensemble. Using wreaths is a common way to make the most of your dried flowers.
Warm Floral Colors
Red and orange tones, along with rich gold and rusty ones, are trending in interior floral design. You need diagonal and overlapping flowers to stand in your vase so that they appear regal and noble. Some examples of what you may want to include are the dahlia, hypericum, and orange gloriosa.
Don't arrange them vertically. Overlap and change up the focal point by making everything diagonal. This will lead to a more complex symmetry in your bouquet.
Overall, 2022 is shaping up to be an exciting year for the floral industry. Now that you know the most popular fresh floral trends in 2022, be sure to find the right online flower company to provide the flowers you need for the next grand occasion in your life.