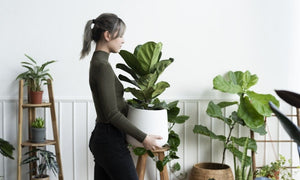 The Benefits of Houseplants: Why Plants Are Good for You
If you're looking for something to add beauty to your home or office, then look no further than houseplants. They're pleasing to the eye, and they also offer many other benefits. Plus, they're easy to maintain, and they can fit in virtually any location in your home. Here are some more of the benefits of houseplants and why plants are good for you.
Plants Improve Indoor Air Quality
Numerous substances in your home can harm your health. Toxic compounds such as benzene, formaldehyde, and trichloroethylene are common in many household materials, and they can damage your health in countless ways. Thankfully, houseplants can absorb these substances and prevent you from getting sick. In addition, plants release water vapor into the air, which can boost indoor humidity levels and benefit your respiratory health.
They Can Improve Your Health
Since plants can improve your indoor air quality, they can also help you feel better throughout the day. Eliminating airborne pathogens will reduce headaches, get rid of allergens, and help you feel more relaxed in the comfort of your home. The less irritation your body experiences, the more relaxed you will feel, which lowers your stress and anxiety levels.
They'll Turn Your House Into a Home
Although plants provide many health benefits, most people purchase them for aesthetic purposes. Adding the perfect plant to your house will give you a new lifeform to care for and a new decoration to cherish. This sense of purpose that plants bring to your home will boost your mood and help you feel more useful around the house. Plants also make your home more visually appealing in the meantime.
There are countless different types of plant species for a variety of decorating purposes. Whether you're looking at flowers, cacti, shrubs, or trees, all of these plants offer similar household benefits.
Overall, houseplants are the perfect additions to any home, and most come at very affordable price points. Now that you know about the benefits of houseplants and why plants are good for you, stop by your favorite store or order plants for delivery straight to your door from Cultivate & Bloom.