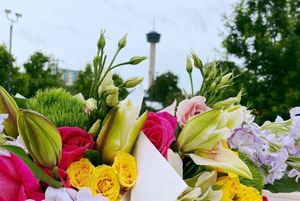 Spring Blooms and Where to Buy Flowers.
Do you greet the arrival of Spring with excitement? April showers are one of the most exciting signs that Spring has arrived, bringing cleansing and renewal. For us it's the sweet anticipation of lush flowers blooming come May. As a host of beautiful flowers begin to sprout we just had to mention some classic yet timeless flowers that could inspire your next Spring bouquet to be eye-catchingly unique! Don't wonder where to buy flowers for spring. Let us take care of you.
Tulips
These beautiful blooms are spotted in March through April, known for their assorted vibrant colors and variety of scents. They bloom in almost any color you can imagine, from a cheerful yellow that represents (one of our core values) joy to red that represents beauty and perfect love. These are a great choice for celebrating unconditional love for partners, children, parents, or siblings, and can bring the most graceful touch to any sunny window. 
Roses
This classic flower is timeless and charming. Roses are a staple in just about any high end bouquet. When mixed with other flowers they can create quite a visual masterpiece. 
While we personally love roses of all colors and sizes, our signature rose, the Pink Floyd, will have you at a loss for words. It's hot pink hue, large head size and high petal count make it a wonderful candidate for any spring arrangement.  Combine this beautiful pop of color with contrasting yellow tulips or any of our other unique flowers for a one-of-a kind look! Ordering flowers online from us means we'll make sure your bouquet has a perfectly balanced blend of spring blooms. We're not just a fabulous flower shop. We're your personal bloomologists!
Wildflowers
The Lisianthus is a natural beauty from the prairies of North America. It comes in white, green, pink, lilac, purple and salmon. Some even have petals with multiple colors. The petals are very soft and delicate, so be sure to be gentle with them. Even though the lisianthus are romantically charming, they represent gratitude, appreciation and charisma. A fitting addition in a thank-you bouquet, or to a friend you admire. In the states of Texas, Nebraska, Nevada and Colorado they call this plant the prairie gentian. 
Conclusion
April is a beautiful introduction to Spring, bursting with bright colors, sweet fragrances and even sweeter messages. If you're looking to create a bouquet of beauty, depth and meaning, browse our fabulous  Hand-Tied™ bouquets that overflow with high quality roses, lilies, hydrangeas and other unique flower varieties. We make ordering flowers online gratifying. Our bouquets created by hand and delivered with care, can be a message of love, gratitude, and joy for any and every occasion. You'll also appreciate our easy online flower delivery experience. Cultivate & Bloom is where to buy flowers this spring!