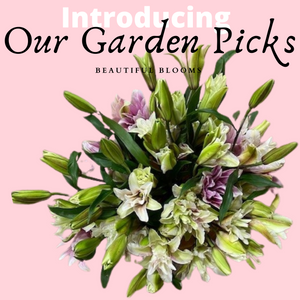 Our Fresh Flower Garden Picks!
OUR FRESH FLOWER GARDEN PICKS!
 BEATIFUL FLOWERS PROCURED FROM AROUND THE WORLD DESIGNED INTO HAND-TIED BOUQUETS™, DELIVERED TO YOUR DOORSTEP NATIONWIDE OR LOCAL IN SAN ANTONIO, TEXAS.
 At Cultivate and Bloom we are privileged to have the opportunity to work with a number of incredible flower farms from around the globe. Over the years, we have also been fortunate to visit some of our suppliers and spend time on their fresh flower farms seeing first hand the breeding and growing process. We have learned the process from seed to bloom, to cutting and shipping of some of the most amazing flowers grown.
 There are many reasons why we love what we do, but delivering beautiful, unique, extra fresh hand-tied fresh flower bouquets is at the top of our list!
Currently we are highlighting a few of our favorite flowers, which we call our Garden Picks and that we  feature on our e-Commerce Store, www.cultivateandbloom.com! 
 Pink Floyd Roses
Our signature Rose, the Pink Floyd is a true hot pink color.  This rose will bloom into a beautiful, stunning extra large flower.  Named after the highly successful and influential English rock band, this rose ROCKS!!  The Pink Floyd rose is fragrant, blooms extra large and is long lasting
Rose Lily
 One of our absolute favorites and a staple in our fresh flower Hand-Tied Bouquets™, the Rose Lily has a series of multi-layered petals.  They have a beautiful light, sweet scent and with proper care are handling this fresh flower can last up to two weeks!  One of its best features is it is pollen free!  The Lily Rose is also grown at one of our favorite flower farms in Costa Rica who is also featured on our website. P&F Flower Farm
  Peonies
  Each year we anxiously await Peony Season!  Peonies have become a favorite amongst fresh flower lovers! The Peony flowers in late spring. There are over 3,000 varieties of peonies grown to date. The Peony is known as the King of Flowers in China and the Queen of Herbs in ancient Greece.
 One of our favorite fresh flower farms we source peonies from, Hammelman Farms in Oregon. Nestled in the Willamette Valley, Hammelman Farms is owned and operated by Bruce and Claire Hammelman, second generation flower farmers. They also tirelessly run the farm alongside their children and amazing employees. The Hammelman's take great pride in their agricultural lifestyle and love what they do! Just one of the many reasons we love them!  https://hammelmans.com/
 Lovely Lilacs
 Lilacs spring flowering, fragrant and beautiful.
There are several hundred varieties of lilacs in single or double flowers, they come in deep purple, lavender, blue, red, pink and white. Lilacs have a short growing season. We bring them in yearly, so check our site early summer to get them before they are gone!
  Our Garden Picks are always our favorite flowers, for many reasons! We sell them as 10 or 20 stem fresh flower bunches, but also occasionally use them in our Hand-Tied Bouquets which are available for your enjoyment in your home or can be sent to family or friends.  Remember, we ship nationwide!
EnJOY!