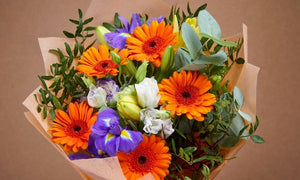 How Fresh Flowers Can Enhance Interior Design
When it comes to interior decorating, there are many accessories that you can use to make a room glow. However, many people overlook the aesthetic benefits of placing fresh flowers in a room.
If you aren't sure where to start on your floral design journey, don't worry. Here's your guide on how fresh flowers can enhance interior design.
Flowers Enhance a Room's Color Palette
Are you looking to add color to a room? If so, then you don't have to break out the paint cans just to expand your room's color palette. Getting flowers is the perfect method for adding vibrant colors into any space with ease.
Depending on the size, color, and shape of the flowers you choose, you can affect how you perceive your room. For instance, if you place a light flower in front of a dark wall, the color contrast will be more exaggerated than if the flowers were in front of a more neutral-colored wall.
A Flower Vase Can Serve as a Focal Point
Unless you have a painting or some other type of artwork lying around, you can use a vase with flowers to serve as the focal point for any room. To keep your houseguests on their toes, you can use a monthly bouquet subscription service to switch out your floral varieties so that your room always maintains a fresh appearance. Your flower bouquet will create an amazing atmosphere that will provide a pleasing aroma, stunning texture, and vivid hues to your interior.
Flowers Showcase Your Sense of Creativity
When selecting flowers to put in your home, the most important factor is what you want to achieve with them. If you want to create a relaxing environment, then you should choose flowers with subtle shades and soft petals so that they don't draw too much attention.
However, if you want to wow your guests with your creative sensibilities, you can choose an exotic flower and place it in a bright vase. No matter which type of flower you choose, you should pick it with intention. Then, your guests will notice your artistic flourishes.
Overall, flowers serve as versatile decorations for any design trend. Now that you know how fresh flowers can enhance interior design, you can pick out the ones that will best serve the aesthetics of your room.