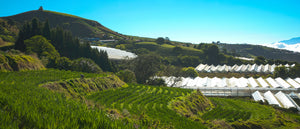 Grower Spotlight: P&F Flower Farm
We are starting with one of our favorite growers! We are thrilled to introduce P&F Flower Farm which is located in the tropical land of Costa Rica, Central America. Their beautiful farm has a unique blend of climatic regions that provides them with the optimum natural conditions for growing their outstanding flowers and foliage.
Since 1986, they have been passionate about growing and exporting first-quality Dutch bulb flowers and the most amazing variety of tropical flowers and foliage. P&F was the first lily and tropical flower farm to be Rainforest Alliance certified in 2007. They are committed to safeguarding the well-being of their people, protecting natural resources, and promoting eco-friendly agricultural practices. 
We've known Cecil, the owner, for many years! His philosophies are in total alignment with ours. Cecil believes in GREAT PEOPLE, BEAUTIFUL PRODUCT that brings joy, OPERATIONAL EXCELLENCE to deliver on absolutely nothing but the best, INNOVATION, and FAMILY.
The lilies and lisianthus in our Hand -Tied Bouquets™ and Blooms of the Week™ are most likely grown by Cecil and his team.
We know you will love their flowers as much as we do!