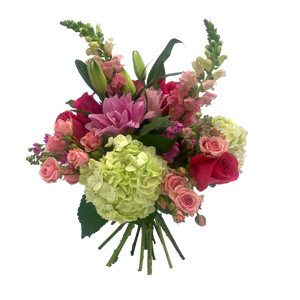 Flower Power: 10 Expert Flower Care Tips To Try This Summer
Flowers — fresh cut or growing in a container — can easily invite color into your apartment space

The right amount of hydration is key to keeping flowers well preserved and fresh

When picking flowers, consider their fragrance and sunlight needs
There's just something so magical about having flowers in any apartment space — even a small one. Whether you have a fresh-cut bouquet on your nightstand or a balcony filled with colorful, flower-filled containers — flowers help make a space a home. To get the most out of your flowers — homegrown or store-bought — follow these creative and helpful flower care tips.
1. Mix together real and faux flowers for an outside space
"Creating a beautiful space on your patio/balcony is a great way to extend your living space into the outdoors," says My 100 Year Old Home. "Sun exposure and watering are key to keeping your flowers and plants beautiful. So, here is my favorite flower care tip: Mix faux flowers into your patio/balcony space alongside your potted flowers and plants. Faux flowers, like lavender, offer a nice pop of color and you don't need to worry about watering them, so they look happy and healthy year-round."
2. Treat your flowers with extra TLC
"Treat your flowers like you would treat your pet!" says Cultivate and Bloom. "Feed them (use the flower food packet that comes with the flowers, it has food and a bactericide to keep flowers fresher longer), keep their water fresh and clean (change it every 3-4 days), trim their stems when you change the water (nails), don't leave them out in the heat or the cold, remember to check up on them and enjoy the love they bring to you daily."
3. Make your own flower food
"Don't have any flower food? One of my favorite flower care tips is making an easy at-home flower food option," says York Flowers. Follow this recipe:
1 quart water

2 tablespoons lemon juice

1 tablespoon sugar

1/2 teaspoon bleach
"Since bacteria can eat your beautiful apartment flower display, this mix can help your stems stay fresh for longer."
4. Keep your flowers chill in your apartment
"Need to keep a bouquet of flowers fresh overnight in your apartment before giving them as a gift or bringing them to a celebration? The most important thing is to keep them cool," says Deborah from Mod and Mint. "Low temperatures will help prevent the flowers from wilting. If possible, put the flowers in a cold spot, like a refrigerator overnight."
5. Invest in flowers that grow well outside
"The best types of flowers that grow well on patios or balconies are varieties with small mature sizes to ensure they don't outgrow the space," says Nikki from Perfect Plants.
"The Perfect Plants team recommends growing varieties like gardenias, jasmine, dwarf azaleas or hydrangeas planted in containers for the best results. A small gardenia like the Dwarf Gardenia Radicans is perfect to keep in a pot on a balcony with plenty of sun and water. Not only does it provide beautiful summer blooms — but it also has a fragrance that cannot be overlooked. If you have never smelled a gardenia flower, you are in for a real treat! There are tons of options out there that don't get more than three to four feet tall and wide, as well as different colored flowers to match your style aesthetic."
6. Keep your flowers happy with fresh H2O
"Provide fresh water daily — you can often see the water start to turn murky after a few days; this is not beneficial to your flowers," says Danny from Oxy-Plants. "Refresh the water daily and if you live in an area with hard water, consider using a water filter."
7. Cut your flowers like a florist
"When it comes to flowers, these flower care tips make a huge difference," says Elisha Hodge from Plumeria Botanical Boutique. "First, always use a clean vase or container. When filling your vase or container with water, make sure it's fresh, room temperature water. Before putting your flowers into the vase, always clean your stems and remove any leaves or foliage that sits under the water line. Additionally, when cutting your stems — make sure to do so at a 45-degree angle. To really make your flowers last, keep them out of sunlight and in a cool spot inside your home. And, of course, regularly change the water to avoid bacteria growth."
8. Utilize the flower food packet in your bouquet
"One of my must-follow flower care tips is about flower food," says Scent and Violet Flowers and Gifts. "If you have bought the fresh-cut flowers wrapped in the paper (or cellophane), do use that little packet of food that came with it. If your flowers came from a reputable florist, the flowers will already have food inside the vase (container). Don't take these little flower food packets for granted!"
9. Quench your flowers' thirst
"Having the right amount of water for your flowers is key. Only fill the bottom of your vase with about three inches of water," says Snappy Living. "More than that will start to decay the stems. Keep refilling it to the three-inch mark, though, so they don't go thirsty."
10. Mix and match your homegrown patio garden
If buying fresh flowers on the regular isn't in your budget or your cup of tea, tons of patio and balcony-friendly flowers exist. Want to put your green thumb to good use? Grow a colorful patio garden this summer. Any of these flower types will do:
Angelonia

Angel's Trumpet

Begonias

Black and Blue Salvia

Catmint

Fuchsia Flowers

Impatiens

Lamb's Ear Byzantina

Lantana

Lavender

Mandevilla

Marigolds

Morning Glories

Moss Rose

Nemesia Blue Gem

Passionflowers

Pentas

Peonies

Plumbago

Sedum

Shasta Daisies

Sky Vine

Snapdragons

Solanum

Sunflowers

Sweet Alyssum

Sweet Peas

Wild Creeping Thyme

Zinnias
Plan to plant these flowers in containers and, of course, make sure they get the right amount of water and sun. In no time, you'll have fragrant blooms in your own backyard garden oasis.
Bloom where you are
Remember, it doesn't matter if you prefer to grow your own flowers or if you like swinging by Trader Joe's for a bouquet each week. Just give in to your green thumb and let the blooms make your apartment feel even more like home!
Royalty-free photos: 
https://unsplash.com/photos/j-eNzOy7XCU
https://unsplash.com/photos/FDagZKhOWac
https://unsplash.com/photos/Uv65AM_jR4Q
https://www.pexels.com/photo/person-in-white-dress-shirt-holding-silver-and-red-scissors-4268553/
https://www.pexels.com/photo/a-person-holding-a-watering-can-7658814/
https://www.pexels.com/photo/red-and-pink-anemone-and-gerbera-daisy-flower-arrangement-in-clear-glass-vase-on-top-of-brown-wooden-table-121668/
https://www.pexels.com/photo/close-up-shot-of-flowers-in-a-vase-6962850/