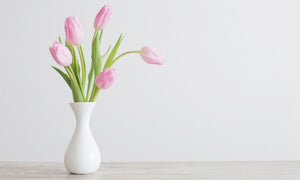 Decorating Your Home for Easter With Fresh Flowers
Although April showers bring May flowers, it is also the month that brings us Easter Sunday. There are many ways to decorate your home for Easter, like painting Easter eggs and putting up pictures of the Easter Bunny. But decorating your home for Easter with fresh flowers is one of the simplest yet most effective ways to give your home an Easter feel. Let's take a look at a few ways to decorate your home with florals this April.
Style Your Dresser With Seasonal Flowers
If you have a dresser or other large piece of furniture in your living room that serves as a focal point, you can turn it into a showcase for your Easter decorations. To start, you can place antiques around a fresh flower bouquet.
This display will serve as an homage to the spring season, with the fresh flower blooms contrasting nicely with the vintage antiques. Filling up old vases and pots with spring blooms is a great way to repurpose lesser-used kitchenware in your home.
Forage Your Garden for Decorating Materials
Having a fresh bouquet delivered to your home is ideal, but if you're on a tight budget or prefer DIY, you can always forage through your backyard for decorating materials. A jar with some dandelions might not seem as luxurious as a vase of tulips, but dandelions exude an innocent Easter charm nonetheless. Whatever you have growing outside can add a natural touch to your indoor area, so if you have any spring foliage in the backyard, use it as the centerpiece of your coffee table.
Bring Spring to Your Mantel
To create an amazing display on your mantel, add some hanging wreaths, spring bulbs, and vintage trinkets to give that homey feeling. Wreaths aren't just for Christmas!
A spring wreath with moss and various floral items will spruce up your mantel for the Easter season. Embellish the wreath with a handmade ribbon and handwritten tag to complete your vintage aesthetic.
Overall, decorating your home for Easter with fresh flowers will ensure that your home is adorned with the right decor to ring in the season. Now that you have a few ideas at your disposal, go ahead and start decorating to your heart's content!